Kilted Clergy Celtic Weddings & More
Weddings: Celtic, Regular, Western or Military. Contemporary, Traditional, or Customized, Large or Small.
I am Rev. Greg Lugn, a wedding officiant & ordained minister in the Christian Church, (Disciples of Christ), in Lincoln, Nebraska. I'm also a US Army veteran.
If you want to have a Celtic wedding, I have the Scottish or Irish kilt, or Welsh cilt to wear while performing your service. Formal, semi-formal, or casual, whatever you want. If you want a military wedding, I can do that in uniform. And, of course, I can do a regular service as well: contemporary, traditional, or customized, casual to formal, large or small. Whatever your theme or heritage I am here to help you celebrate & proclaim your love & commitment to each other in a way that is meaningful to you.
Christian, secular or interfaith, the choice is yours. I gladly work w/ officiants of other faiths for dual-faith ceremonies.
Tell me what you want and together we will create the Celtic, military, or regular wedding you want.
(I also do western or country theme weddings, if you're a boots & jeans kind of person...)
I charge no fee; you may provide a donation in an amount of your choosing.
See my Facebook pages too: "Kilted Clergy" or "Wedding Minister: Rev. Greg Lugn" (www.facebook.com)
[=]
Member: American Association of Wedding Officiants
How to Contact Me:
Rev. Greg Lugn
402-467-5125
*My phone has an answering machine. It normally picks up after the 4th ring, so be patient, you will be able to leave a message. Also, please leave your phone number.
My email address is:
My mailing address is:
1412 N. 45th St. Apt. 6
Lincoln, NE 68503
*NOTE: I do not have internet access on my cell phone, so I can only check my email from my computer, which I try to do at least a couple times per day. Checking email on weekends varies due to weddings, etc.
I promise I will get back to you as soon as I can.
Contact Now
Brought to you by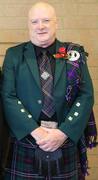 Serving in ministry since 1991
It's your day so we will do it your way!
THUMBTACK CUSTOMER SERVICE AWARDS
WEDDINGWIRE.COM REVIEWS
Read all of our wedding reviews on our
Kilted Clergy Celtic & Regular Weddings 2
Storefront at
TRADITIONAL CEREMONIES AVAILABLE INCLUDE:
Church of Scotland, traditional Celtic, Disciples of Christ, United Church of Christ, United Methodist, United Presbyterian, Episcopal, Church of Ireland, & The Church of Wales
And, of course, customized &/or blended services can be created as well. We can be as contemporary or traditional as you want. 'Weird' or 'eccentric' is OK too.

I work with you to create the wedding you want!
Some Other Websites to Help You Plan a Celtic Wedding: